A bit of a brick wall with my 2nd GGF William R Heenan. I am pretty sure he was born about 1834 in New York City. So I decided to start looking at Catholic churches that were in existence at that point hoping I could perhaps at some point locate a baptism certificate. Here is what I found: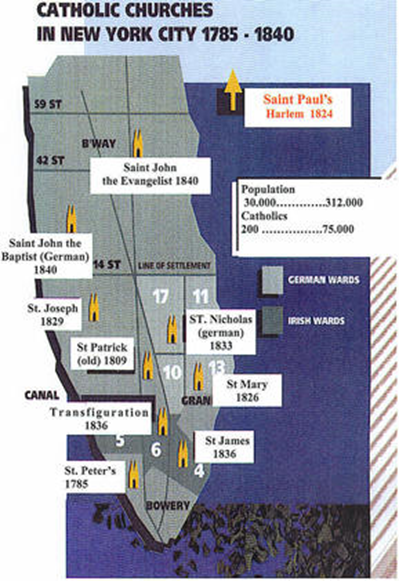 Church of St. Joseph in Greenwich Village – St. Joseph's Parish was founded by Bishop John Dubois in 1829. The church was built in 1833–34. Early church records indicate that St. Joseph's first congregants were predominantly Irish-Americans.
St. Mary Church (Grand Street, Manhattan) – Established in 1826 to serve Irish immigrants living in the neighborhood. The church itself was built in 1832-33. Before their sanctuary was built, services were held in a former Presbyterian church on Sheriff Street. The original portion is the second oldest Roman Catholic structure in the city, after St. Patrick's Old Cathedral, which was built in 1815.
St. Paul Church (New York City) – Located in the East Harlem neighborhood of Manhattan. Bishop John Dubois decided to establish a parish on 117th Street and asked Rev. Michael Curran to take charge. His knowledge of Gaelic served him well among his widely scattered parishioners. The cornerstone of St. Paul's church was set June 29, 1835. St Paul's Parish began its existence in 1834 embracing the whole upper area of old New York from New Rochelle to downtown Manhattan. At that time Harlem was little more than a wilderness.
Church of the Transfiguration, Roman Catholic (Manhattan) – The church was built in 1801 in the Georgian style of architecture for the Zion English Lutheran Church, a Lutheran congregation. The building was sold in 1853 to the Roman Catholic Church of the Immigrants parish, which had been founded in 1827 by the Rev. Felix Varela y Morales to minister to the poor Irish in the Five Points.
St. Patrick's Old Cathedral – Built between 1809 and 1815. The cornerstone of St. Patrick's was laid on June 8, 1809. Construction took just under five years, with the sanctuary being dedicated on May 14, 1815. In 1836, the cathedral was the subject of an attempted sack after tensions between Irish Catholics and anti-Catholic Know-Nothing nativists led to several riots and other physical confrontations.
St. Peter Catholic Church (Manhattan) – The original church was built in 1785-86. It was used for worship until 1834 when it was replaced by the present structure. FatherWilliam O'Brien was the first pastor. In August 2015 the St. Peter's parish mergedwith Our Lady of the Rosary.
Side Note: The first New York chapter of the Ancient Order of Hibernians was established in 1836 at St. James Church.